For all people loving Japanese tea ,sencha.
2018.02.21 Wednesday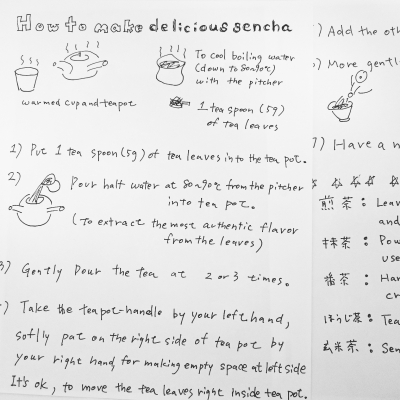 How to make delicious sencha
1) Put 1teaspoon(5g) of tea leaves into the teapot.
2) Pour first hot water (at 80~90 degrees) from the pitcher into the teapot.
(to extract the most authentic flavor from the leaves)
3) Gently pour the tea at 2 or 3 times.
4) Take the teapot handle by your left hand, softly tap on the back side of
the teapot by your right hand, for making empty space around the strainer.
It's OK, to move the tea leaves away from the strainer.
5) Add second hot water at empty space.
6) More gently pour the tea a little 2 or 3 times.
7) Have a nice tea time!!!!!!!!!!!
+++++++++++++++++++++++++++++++++++++++++++++++++++++++++++
煎茶:Leaves from the first crops that are steamed and dried.
抹茶:Powderd tea made from young leaves,used in the traditional tea ceremony.
番茶: Hard leaves and stems from late in the tea picking season that are
steamed and dried.
ほうじ茶: Tea made with roasted sencha and bancha.
玄米茶: Sencha mixed with rice popcorn.
釜炒り茶: Pan fired tea. This tea has manufactured in the district KYUSHU
since Muromachi period (about 500 years before).